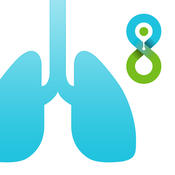 12 Dec

COPD Navigator, ResearchKit App Launched by Mt.Sinai and LifeMap Solutions
LifeMap Solutions and Mt Sinai Hospital have released a new COPD app called COPD Navigator. This personalized tool helps you track your COPD symptoms like cough mucous, breathless ness and their effect on daily activities. This is the same team which launched the very popular Asthma Health app.
The COPD Navigator has patient as its central focus and if you sign up, you can track symptoms, medications, and share the data with your care team.
In addition, you will get local weather and air quality alerts. The main goal of the app is to improve treatment adherence and help you gain greater insight into your COPD.
The app also provides COPD educational material provided by Mt Sinai's Icahn School of Medicine and the National Jewish Health Respiratory Institute.
The team has also launched the enterprise version of COPD Navigator, called iBreathe with SuperCare Health.  
Both versions are similar in collection of data but differ in how patients can share the data with their doctor. The free version of COPD Navigator has a summary screen which patients can physically show their doctor. However, in the iBreathe version, the data collected is sent directly to doctor.
The app is HealthKit enabled and its Android version is under development.
Sponsor/Developer: LifeMap Solutions, Mount Sinai Hospital
Download on iTunes: https://itunes.apple.com/us/app/copd-navigator/id1022991860?ls=1&mt=8