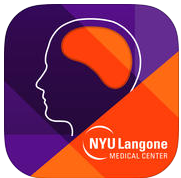 22 Dec

Concussion Tracker ResearchKit App from NYU Langone Medical Center
A new research study at NYU Langone Medical Center has launched a researchkit app named, Concussion Tracker to better track concussion symptoms in the first six weeks following diagnosis.
Concussion is a form injury caused by a blow to the head or body which can damage brain tissue functions. The research study at NYU is investigating whether a free mobile app (ResearchKit app) can help in improved recording of information regarding symptoms, physical and cognitive function after diagnosis of concussion. The study hopes to collect information on usage of mobile app technology in obtaining patient-reported data – heart rate, physical and cognitive functions, up to six weeks of being diagnosed with concussion.
Apart from being a US citizen and at least 18 years of age, eligibility to participate in the NYU study include, (as given on the study site)
Being diagnosed by a healthcare provider with concussion within 10 days of enrollment.

Being under the care of a healthcare provider.

Able to read and understand English to provide informed consent and follow instructions.
If you are participating in the study, you will input the following into your app daily,
Symptoms

Result of 6 minute walking test

One concentration task

Heart rate measured using Apple Watch (if you have one)

Share dashboard of all input data with your doctor (if you choose)
When you first download app, you will answer a questionnaire about the study to ensure that you understand all nuances of the study. Study period for any participant is six weeks, after which, input data will not be analyzed. However, participants are free to use the app for personal tracking of symptoms.
Sponsor/Developer: NYU Langone Medical Center
Study Site: http://nyulangone.org/apps/concussion-tracker-app
Download on iTunes: https://itunes.apple.com/app/id1003284834