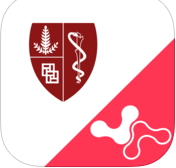 27 Sep

Stanford Launches ResearchKit App Study for Peripheral Arterial Disease
Name: VascTrac
Sponsor/Developer: Stanford Medicine / Abbott Vascular, Cook Medical, W. L. Gore & Associates and Microsoft.
Study Site: http://www.vasctrac.com/
A new research study at The Stanford University School of Medicine has launched a researchkit app named, VascTrac to help in their study on peripheral arterial disease or PAD.
Peripheral arterial disease is a circulatory problem caused due to plaque buildup in the peripheral arteries. Cramping and pain while walking or climbing stairs is the primary symptom and the researchkit study app will be looking at the greatest distance that people with PAD can walk without stopping.
The VascTrac app will collect activity data using Apple's ResearchKit. Oliver Aalami, MD, clinical associate professor of vascular surgery and lead investigator of the study said the goal for the PAD study is to enroll 2,000 to 5,000 participants, "much more than you can do with a traditional trial" in a release issued by Stanford.
"We hope to gain insights into patterns of disease progression over time by collecting participants' activity data from their iPhones. We will be looking for any changes in activity patterns that may indicate disease advancement", he added.
This app will be able to track PAD patients on a daily basis as opposed to the standard  follow-up visits at three-, six- and 12-month intervals.
Anyone who is a US citizen and 18 years of age is eligible to participate in the study. It is not necessary to be a PAD patient to use this app. "Because anyone can develop peripheral artery disease, and because we need healthy subjects as controls, we're opening the study to anyone," said Raheel Ata, a Stanford medical student and co-investigator of the study.
The main goal of the app aided study on PAD is to find patterns between medical information and walking data to gain new insights about PAD.